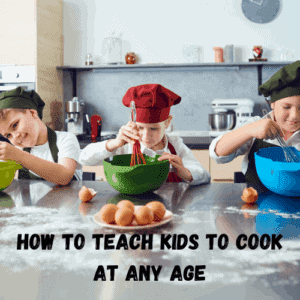 Have you been wondering how to teach your kid to cook? Being able to cook is a wonderful skill to have in life. Not only does it allow you to create delicious, healthy meals for yourself, but it's a great way to entertain in your home.
As with many key life skills, they start at a young age. Teaching your kid to cook can help them in so many ways. When they go off to college or leave the nest, you'll feel happy knowing they'll be able to feed themselves without going out to eat every night!
So where do you even begin to teach a kid to cook? Here are some great tips to help you and your child discover a love for cooking.
When is the right time to teach your kid how to cook?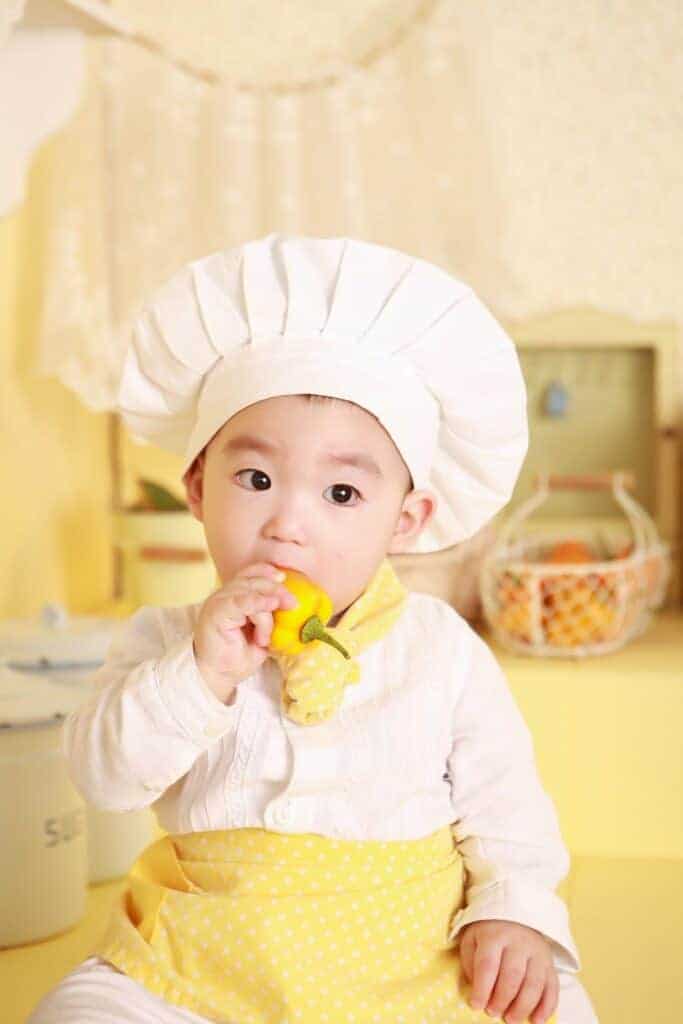 Your child will develop an interest in food from a young age – it's a key part of their day, after all! And you can help develop that interest by spending time with them in the kitchen. As they watch what you do, they'll want to help and have a go at doing it themselves. But as we know, cooking can be dangerous with a lot of kitchen hazards that are best kept away from small, curious hands.
There are some basics that you can teach kids at any age. Using the right tools is also important. For other tasks, it is helpful to break it down by age so that you can work out what is appropriate to teach and when.
Tools To Help Your Kids Learn To Cook
As you teach your kids to cook, you may want to implement some tools that will help with teaching your kids to cook. Read below for some options.
Cooking Utensils For Kids
Giving your child their own cooking utensils can make a great gift! Not only will it makes things safer for them in the kitchen, but they'll also take more ownership because they are their special, personal utensils. Some ideas for what you can buy for your child's first cooking utensils include:
Knives that are suitable for children – usually made from plastic. You'll find different types of knives are on the market which you can upgrade to as your child gets older. The picture shown above is an example of a kitchen knife set that your kids can use safely. Although it is a plastic, it can safely cut some fruit, bread, cake, salad, lettuce. It is available here on Amazon. I also purchased it for my kids. They like it because now they can have fun with mommy in the kitchen.
Small utensils – these come in great sets and are generally made from silicone, which is ideal for avoiding scratches on your cookware. The can include spatulas, tongs, whisks, ladels, rolling pins and more. Sized for little hands, they'll help your child learn a lot of different skills.
A chef's hat and apron – why not personalize them as an extra special gift?
A learning tower or stool- ideal for helping your child reach the counter in those early years! If you are not familiar with learning towers, here are some examples on Amazon.
Non-slip bowls and chopping boards – these are usually made with silicone bottoms to keep them from slipping as your child tries to use them (also handy for clumsy adults!).
As part of the learning process, you can teach your kid how to clean their utensils properly – a vital skill that gets overlooked!
Cooking kits for kids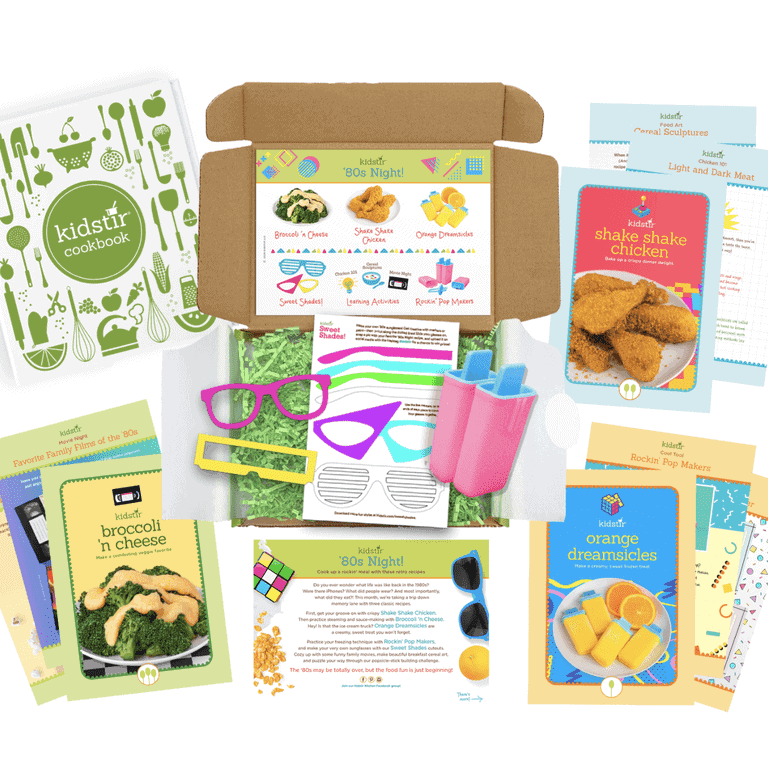 To help make cooking more fun for your kid, you could invest in some kids' cooking kits. Ideal for teaching the basics, as well as safety, they can help explain things in a kid-friendly language. They include fun pictures that will help them learn. You can find some that cover a range of meal ideas because some are focused on baking and others are focused on different cuisines. This will teach your child about all kinds of food.
Starting with the basics
Your kids have some tools but you may still feel overwhelmed with where to begin when teaching your child to cook. We recommend starting with some very basic ideas. Many of which don't involve cooking at all. You can start by teaching them how to pour cereal and juice, how to butter bread, make shapes in cookie dough and so on. From there you can start getting them to help with food preparation. They can also help with washing items. This will give you a helping hand.
As your kid grows more confident in their basic skills, you can introduce new ones. Learning how to make a simple sauce for pasta or soup can be a great way to get them started. 
Teaching A Kid To Cook By Age
When kids first start helping out in the kitchen they will be limited things they can do. As they grow, they will be able to complete more complicated tasks. The Kid On the Go is providing some recommendations of things kids may be able to complete at their age. Sense kids develop at different rates, you are the best gauge at what they can actually accomplish.
Teaching A Kid To Cook Under Age 3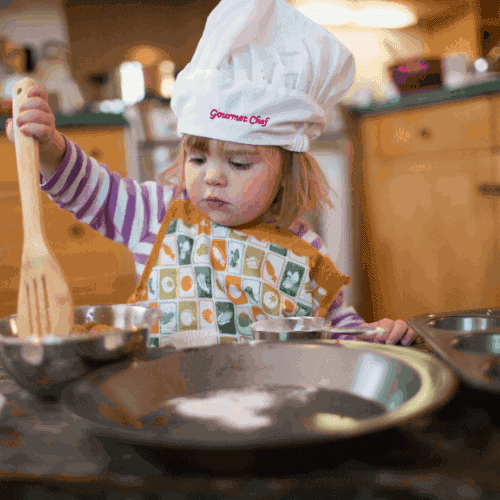 At this early stage, kids will need a lot of help for most daily activities, so don't expect big things from them in the kitchen! But by having them near when you're baking or making dinner, they can feel like they're part of the process. Start with simple tasks like sprinkling, spooning/pouring ingredients and even stirring at cool temperatures. Even if they're guided by your hand, they'll start to associate cooking as a fun, enjoyable activity.
Teaching A Kid To Cook Between Ages 3 and 7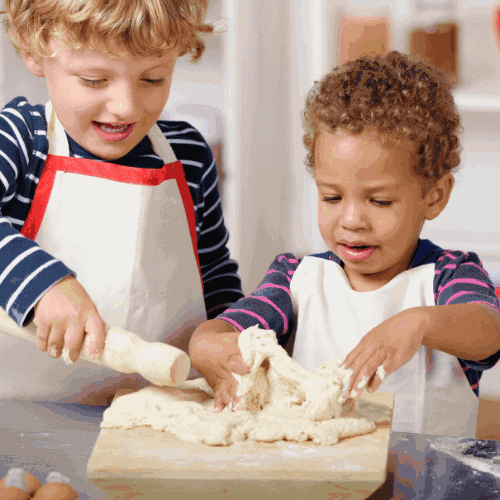 By this stage, your child will have much better motor functions. They will be able to hold and use various kitchen utensils without much trouble. They'll be able to help with tasks such as washing vegetables and fruit, stirring, weighing and pouring ingredients, kneading, tearing and more. With the help of a strong, but plastic, knife, they can also get involved with chopping some ingredients that are easier to cut. Reference the Towards the older end of the bracket, they'll be able to grate, peel, fold and other key cooking tasks. It's also a good time to teach them how to set the table.
Teaching Kids To Cook Between Ages 8 and 11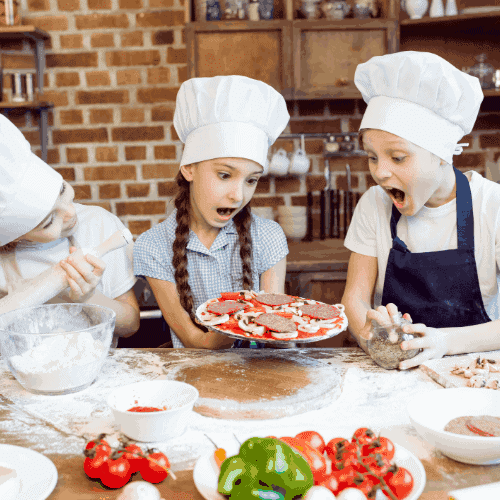 At this age, kids will be able to take on kitchen tasks a lot more independently, although they will still need supervision in the kitchen. They'll be able to make decisions about what to cook, using different utensils and cooking equipment. They will also be able to learn how to use heat responsibly. This is a great opportunity to teach them some basic recipes.
Teaching Kids To Cook Over Age 12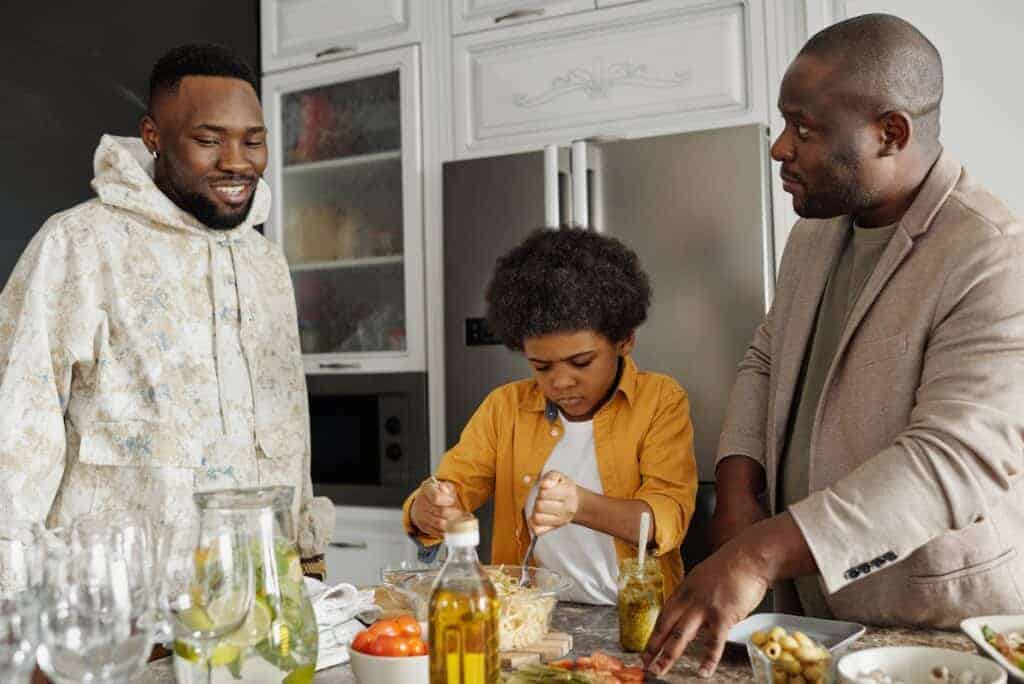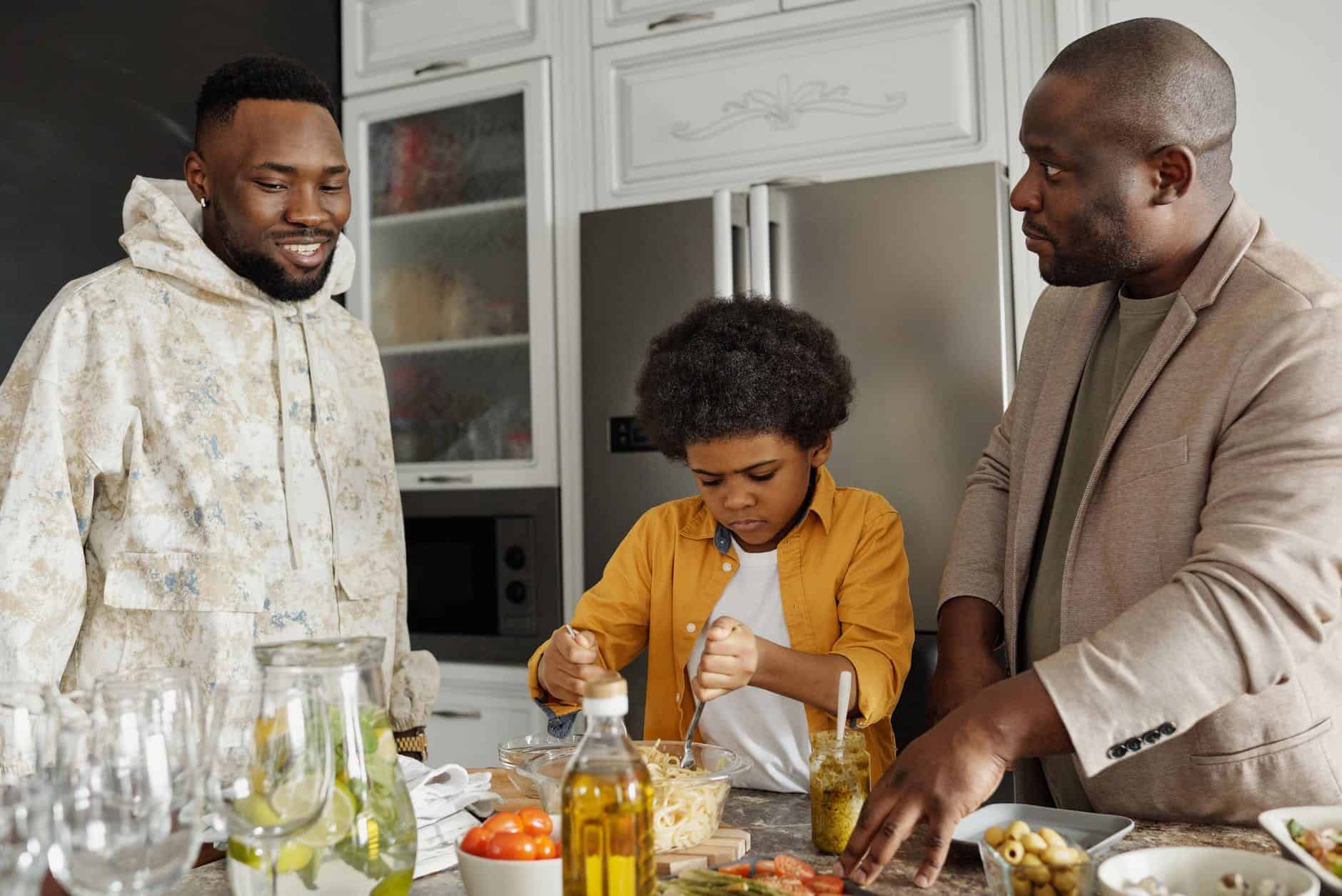 As your kid goes into their teenage years, they'll be able to cook a lot more independently, improvising recipes and make a lot of things for themselves. While they should still be supervised when using heat and knives, they'll be able to enjoy trying new recipes and techniques. It's good to get them interested in trying different types of cooking at this age to help develop their interest further. Some cookbooks could be a great gift at this age!
Beginning Kid Recipes Online
There are a lot of great introductory recipes you can teach your kid, and you can find some great recipes online. The Taste of Home includes an article of 70 recipes that kids can learn to make by themselves. A lot of the recipes include nutritious snacks.
No Bake Peanut Butter Treats By Taste of Home
This recipe is ideal of kids because it doesn't involve the use of the stove, it is nutritious and it uses a few ingredients.
Ingredients
1/3 cup chunky peanut butter
1/4 cup honey
1/2 teaspoon vanilla extract
Directions
In a small bowl, combine the peanut butter, honey and vanilla. Stir in the milk powder, oats and graham cracker crumbs. Shape into 1-in. balls. Cover and refrigerate until serving.
Classic Beginning Recipes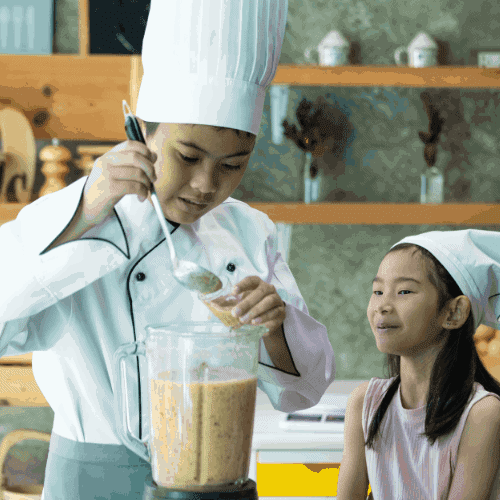 In addition to the other recipes mentioned above, here are some classics beginning food choices for introducing your kids to cooking. They include:
Scrambled egg
A simple tomato soup
Smoothies
Dips
Rice Krispie treats
Mashed potatoes
Sandwiches and wraps
You can also start thinking about the typical foods your child eats every day to give you some ideas of the things they'd like to cook.
Kitchen Safety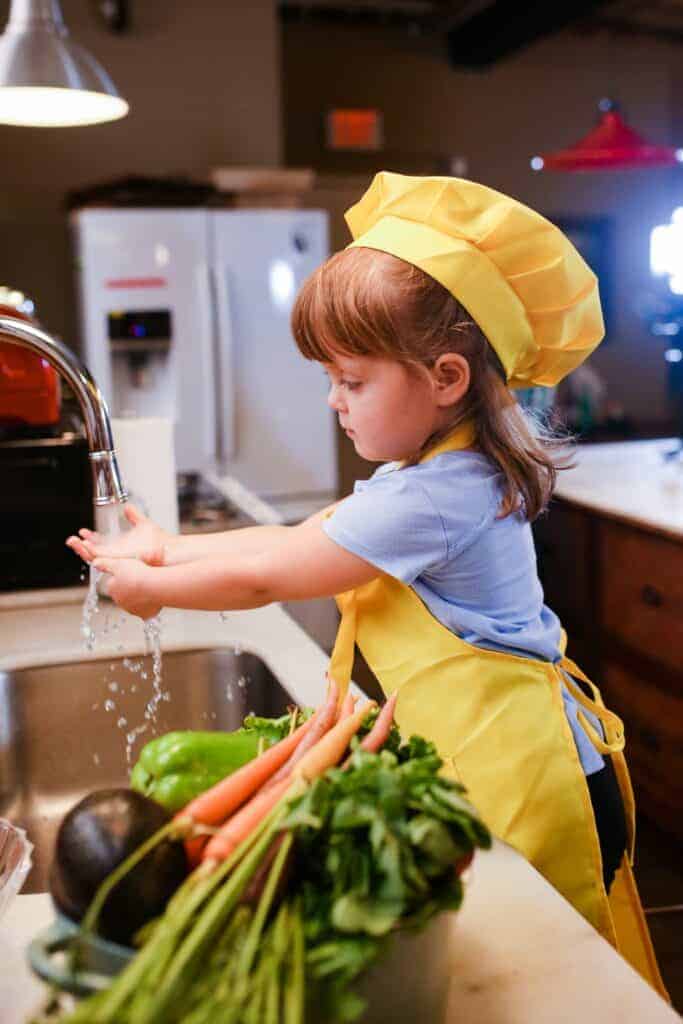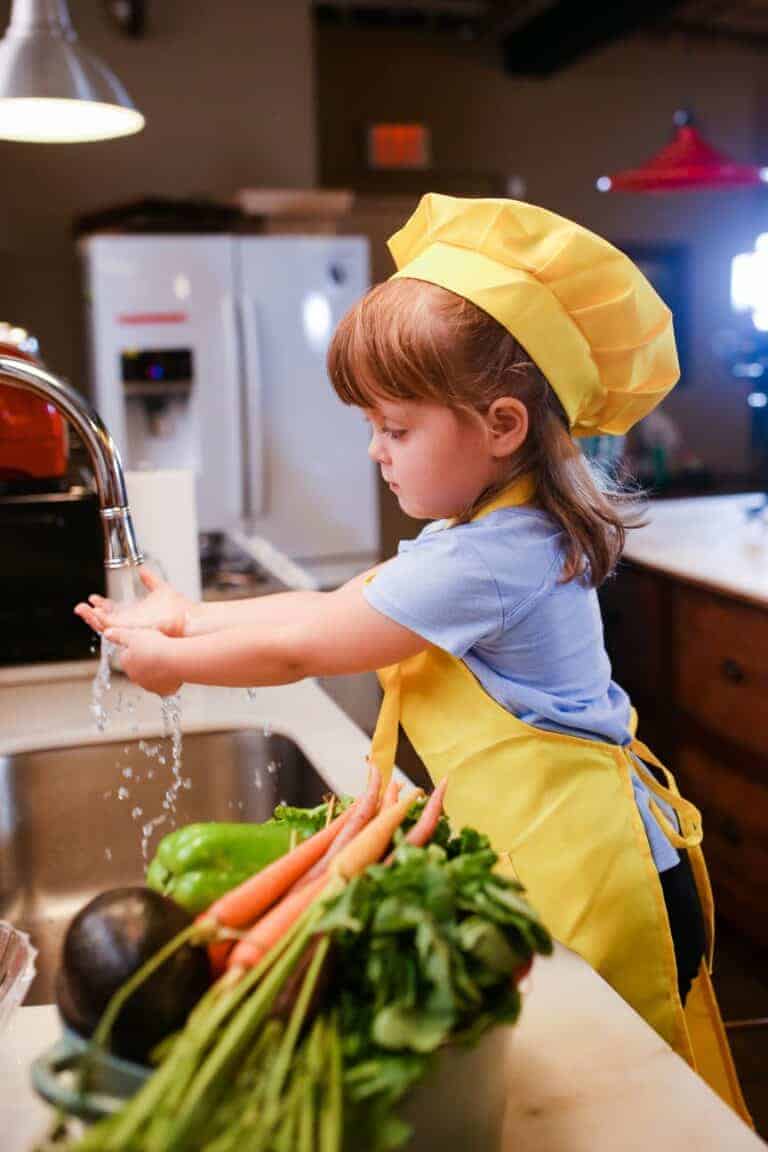 Kitchens are full of all kinds of hazards, including sharp objects and heat sources that can cause injury to an experienced adult, let alone a child. It's important that when you introduce your child to cooking, that you demonstrate and teach kitchen safety too. Some great tips for teaching your child to cook safely in the kitchen include:
Make sure they know to have an adult present before they start to cook anything.
Encourage hand washing before cooking and after handling food.
Use plastic knives and utensils and make sure they learn how to use these safely before moving onto sharper ones.
Teach them about how to use heat responsibly, and always supervise them near heat sources and hot dishes, etc.
Make sure they clean up as they go.
Teach them how to use oven gloves, pot holders, etc. to carry hot items when they are ready to do so.
While it's always tempting to lick the spoon (especially for tasty treats!), make sure they ask before doing so, allowing you to advise them on whether it's safe or not.
Kitchen safety is something kids will pick up from you. Make sure you always demonstrate kitchen safety yourself. Also remember to talktalk to your child about what you're doing and why you're doing it. Cooking can be a lot of fun, but you need to put rules in place to keep everyone safe.
Developing Their Love For Cooking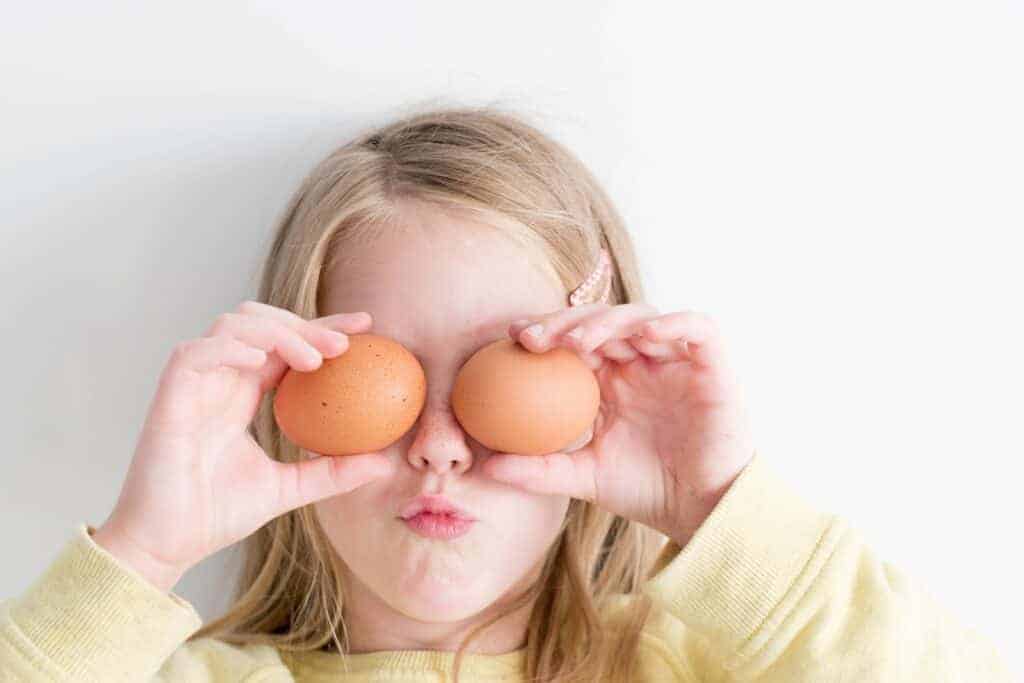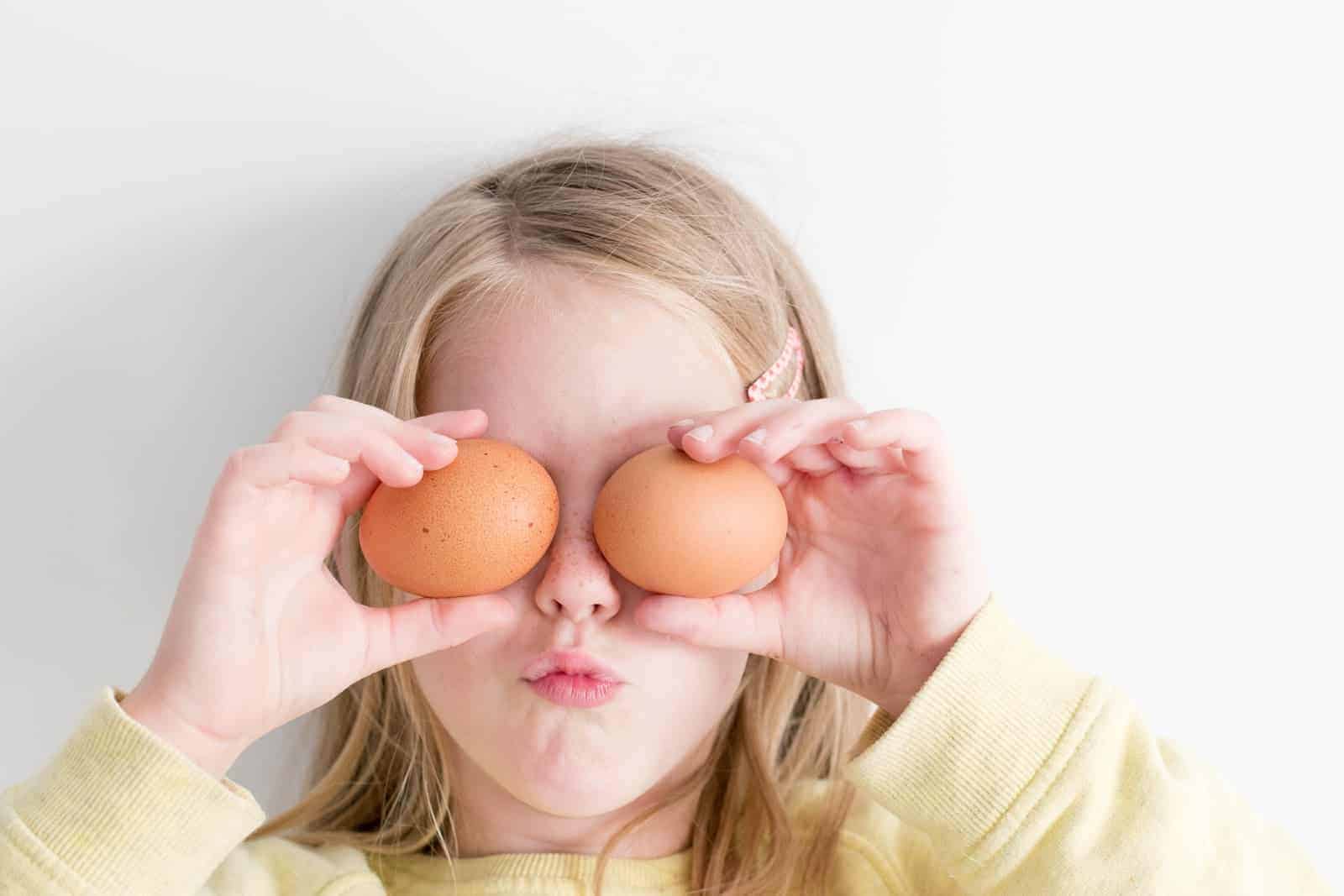 Once your child has mastered the basics and is starting to enjoy cooking, you can help develop their interest further. Some simple ideas for getting your kid to be interested in cooking include:
Have each family member take turns to cook – the competition will be on to create the tastiest dishes!
Watch cooking shows together.
Buy new recipe books and look for new and exciting recipes online.
Challenge yourselves to try different forms of cooking, including making bread, making your own pasta and other items from scratch.
Invest in some cool kitchen gadgets, these can be perfect for making new recipes as well as getting your child more interested in cooking – who doesn't love a gadget to make things a little easier?
Get them involved in cooking big dinners like Thanksgiving. It can become a fun tradition for each member of the family to have their own part to play on the day!
Keep encouraging them and praising them for their efforts. Avoid being critical as this could affect their confidence.
Why Cooking with Kids Is Beneficial For Entire Family
Cooking at home with the kids is beneficial for the entire family.
In addition to helping to create a family bond, it can help with the following:
Saves the family money.
Entire family may eat healthier.
The family will avoid unnecessary added sugar, salts and fat that are found in many store-bought foods.
Saving waste.
Teaching good habits including what to make when there isn't much in the fridge.
Parents may remember some basic cooking skills that may have been forgotten.
By teaching your kid to cook, you too can learn some basic cooking skills you might've forgotten. Being able to make tasty, wholesome meals from scratch is important for a healthy diet, and means you don't always have to rely on ready-made foods or takeout. You can learn to make all kinds of recipes, including your takeout favorites.
Cooking Classes For Kids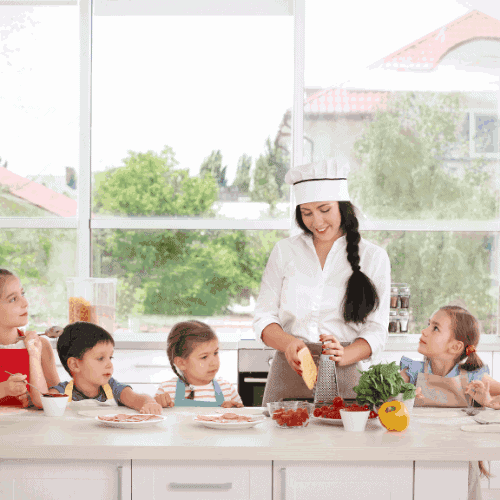 One way to encourage your child's interest in cooking is through cooking classes. There are many benefits to cooking classes designed for children:
It's a fun activity they can do outside of the house.
They'll get to meet other kids and make new friends.
Health and safety will be a priority.
Kids will learn recipes relevant to their age and skills.
You won't have to clear up your own kitchen afterward!
Cooking classes could be a great new hobby for your kid, helping them gain confidence in the kitchen. You could even find classes you can do together once they've mastered the basics too!
Here are some upcoming Kid's virtual cooking classes and cooking classes in South Florida.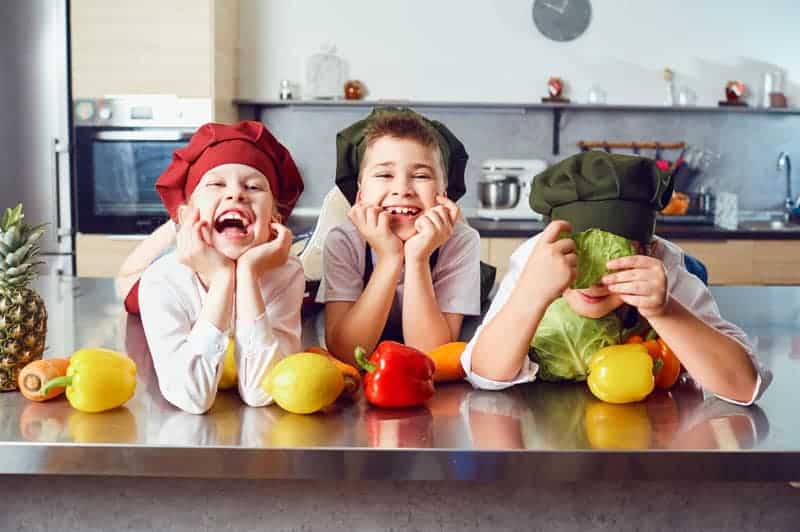 On Sundays, kids have fun making their own food.   Kids also receive a chef hat,
READ MORE
On Saturdays, kids make seasonal dishes as  part of these cooking classes at The Real
READ MORE
Wrap-Up
Teaching your kid to cook is a fantastic way of showing them some essential life skills, and not only will they be able to help out with cooking, but you'll know that when they leave home, they've already got an interest and experience of cooking for themselves. Most importantly, teaching your kid to cook can be a fun experience for the both of you, helping to make some special memories you'll cherish forever.