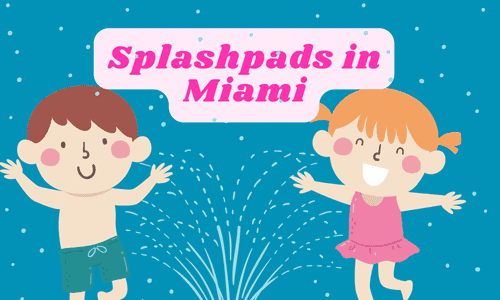 To stay at home on a hot day with your tots with no entertainment and a fan is as helpful as concrete slippers in a swimming pool. The best way to beat the heat with your family is with a fantastic water-filled day!  Splash pads and water playgrounds come in handy as one of the many ways to have some fun. Below are what is believed to be 10 of the best options with surrounding attractions for a happy and entertained child near you in Miami, South Florida.
Westwind Lakes Action Sports Park
6805 S.W. 152 Avenue, Miami
The splash pad is ADA-accessible and opens every day of the week during the summertime. It is a 3.700 square foot deck that allows your children to play in 20 different fountains and spouts. You would be sure to have a great day with them here at the Action Sports Park. You may want to watch the action with children from afar in wonder as it may not be too safe to get close.
The Westwind Lakes Park is famous for its skate park, which Tony Hawks went to in 2011 on tour. The park is 10 000 square feet and attracts many BMX riders, skaters and splash padders who want to enjoy the sun.
South Pointe Park
1 Washington Ave, Miami Beach, FL
The South Pointe park sports a beautiful Art Deco water feature that resembles a sculpture. This splash pad in Miami, South Florida, is a gorgeous object that has been included in cinematic films, including photography and can feature in your own family photo. The park is 17-acres and is a perfect space to relax, eat, spend time with the family and tots and keep your health in top shape.
Salty's Pirate Playground at Miami Seaquarium
4400 Rickenbacker Causeway, Miami, FL
The playground is where two to twelve-year-olds can pretend to be sweating like Pavarotti on a treadmill while walking the plank. A two-story ship is ringed by a "shark-filled" moat on the playground, adding to the pirate-like atmosphere. They have water blasters on the ground and inside the ship, geysers that shoot 30 feet up, super soakers, waterslides, splashes from landmine crates and shows.
The ship is 31 feet by 27 feet, allowing for a large amount of fun with wet and dry play areas. It offers a cushioned space and cargo nets, as well as fantastic water effects. The water playground at the Miami Seaquarium, an aquarium where you can also learn about wildlife rescue, visit exhibits on marine life, shows, marine animal care, and dolphin swimming experiences, among other things.
Normandy Isle Park and Pool
7030 Trouville Esplanade, Miami Beach
A soccer field, a basketball court, and other sporting activities are located throughout the park. A four-lane lap pool, an interactive toddler pool, a gigantic waterfall mushroom, and an in-water playground are all available to enjoy. The splash parks, which reach depths of up to 1.6 feet, are open to everyone, and the activities at the water playground cater to people of all ages.
A.D. Barnes Park
3401 SW 72 Avenue, Miami, FL
A.D. Barnes Park opened in 1977 and is a 65-acre park that is packed with different recreational activities. The first director of the Parks and Recreation department, who the park was named after, made it possible for people with disabilities to integrate seamlessly. You can send your child to learn how to swim, there are specialized camps for them to enjoy, eco-adventures and a splash playground!
Have fun in the playground on Saturdays when the splash playground is opened. This is perfect if you want to promote your family's health in a beautiful nature-filled area of gorgeous pine Rockland forests. Enjoying other laid back activities such as picnicking, fishing, small hikes through a 15-acre nature trail while bird watching have allowed people to escape their everyday lives since the great depression.
Zoo Miami (The Miami-Dade Zoological Park and Gardens)
12400 SW 152nd St, Miami, FL
The Zoo Miami allows you to see the beautiful animals that educate and lets you have some fun in the sun with a splash. There are several areas you can enjoy and cool you down. The Amazon & Beyond Village Plaza has an excellent fiesta fountain. The Ocean Voyage sports a whale's tail, and don't worry, it's only a waterfall spouting fountain, not an actual tail. Water sprouting mushrooms and a water play area can be found in the Hyena exhibit and the children's zoo, respectively.
Pinecrest Gardens
11000 S.W. 57 Avenue, Pinecrest
Pinecrest Gardens Splash' N Play is perfect for children aged 2 -12 years old. Pinecrest Gardens is not only great for the kids but for the whole family with their beautiful botanical gardens that have a variety of activities, events like their Saturday night jazz concerts and farmers markets on the weekends. The water playground has features such as water shooting from the ground, large palms that spray mist, a mushroom waterfall tree and a fire hydrant that sprays water.
Founders Park, Aventura
3105 NE 190 Street, Aventura, FL
Founders Park is a 12-acre park that has two sections. You would want to be with your kids in the northern section, where the splash pads are located. Within the splash pad area, you'll discover a fun and safe water play area with loops, structures, and water-spraying nozzles.
They may run back and forth between the splash pad and the playground in the surrounding area. There are also a number of sports-related locations and options, including a fitness path, tennis courts, and an athletic field, to mention a few. According to the park, there is a limitation on the number of people allowed at the splash pad. You would need to make free reservations that enable you to have a designated area for safety.   There is also a fee for non-residents to use this park and splashpad area.
Officer Scott A. Winters Park, Bay Harbor Islands
1145 98 Street, Bay Harbor Islands
The Officer Scott park has an open field with field turf and an adjacent dog run. It has a lovely space to have picnics, such as the picnic pavilion to watch the kids, along with some benches to sit. There is a beautiful splash pad that is a popular one in the community. This will consistently remind you of the sun with its bright shape that looks just like it. There are various waterspouts to play in and two playgrounds that separate the younger kids from the older ones that are ADA accessible. The park commemorates an officer whom it was named after.