There's plenty of fun aspects about going to the waterpark with the family in Miami-Dade.  After all, what's not to love about a water park? It'll be you, your partner, and the kids having nothing but fun all day long. While there are water parks located all over the country, there are some corners of the US where water parks are more common — and better — than others.
In this blog, we're going to take a look at the best waterparks in Miami -Dade County.  Pick one and have a family fun day.
Bucky Dent Waterpark – Hialeah, FL –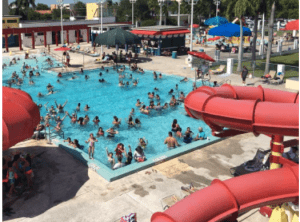 Bucky Dent Waterpark is a great option when you're looking for a relaxed but fun day with the family. It's located within the larger Bucky Dent Park, which has all the standard features that you'd expect from a South Florida park, including a children's playground. At the waterpark, you'll find a couple of 150-ft long slides. There's also a large regular pool, and a splash pool for the kids. It's as fun as it is relaxing, too, with plenty of seating options located on site, as well as food and drink stands.
Address: 2240 West 60 Street, Hialeah, FL 33016
Tidal Cove Waterpark, Aventura, FL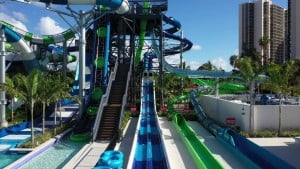 Tidal Cove Waterpark has rightly earned its reputation for being one of the best waterparks not only in South Florida, but in the country. Simply put: it provides an endless amount of fun for the whole family, from the youngest child in your clan all the way through to adults. It's hard to say which is the biggest and best ride, because there are so many to choose from. The Aqua Drop is probably the most thrilling, while the Constrictor is the most classic. Not that it's all thrills, thrills, thrills, however. There's a couple of world-class relaxation pools that'll put you into a deep state of bliss.
Address: 19999 West Country Club Drive, Aventura, FL 33180
McDonald Water Park  – Hialah, Florida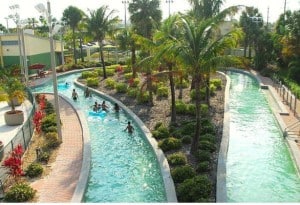 You can have a lot of fun by visiting McDonald Park. After all, there's playgrounds, tennis courts, and a large lake to enjoy. However, if you want to make the most of your trip to the park, then you'll want to swing by the (paid) water park that's located within. There's a lazy river, waterfalls, a splash pad, and a wave pool. Plus, there's plenty of places to relax, too. It's an affordable option that can make for a highly pleasant day out with the family!
Address: 7505 W 12th Avenue, Hialeah FL 33014
Miami Watersports Complex, Hialeah, FL –
Not all water parks in South Florida are the same. Some don't have rides in the traditional sense, yet they're just as much fun. This is the case with the Miami Watersports Complex. If you're looking to do something a bit different on your trip, then consider swinging by. You can surf, wakeboard, and so much more. If your children are comfortable on the water and love adrenaline, then this is the place that you'll want to visit.
Address: 401 E 65 Street, Hialeah, FL 33013
Grapeland Waterpark – Miami, FL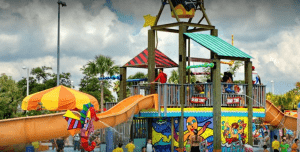 Grapeland Waterpark has everything that you'd want from a family-friendly attraction. It's a large space with all the staples of an awesome water park, including large pools, slides, and a lazy river. It's a guaranteed good time, so if you're struggling with what to do (not that this is likely) when you're in South Florida, then head down — you will not regret it.
Address: 1550 NW 37th Ave, Miami, FL 33125
Conclusion
As we've seen, you'll have plenty of options if you're looking to visit a water park with your kids during your time in South Florida! And if you're lucky enough to live in this beautiful corner of the world, then you'll be able to tick off each and every one over the years. Because if there's one thing that we know, it's that kids — and adults — never get tired of visiting water parks. All the water parks that we've listed on this page will provide an excellent day out. Indeed, by the time you're back home from your vacation, you might just realize that this was the most fun day that you had while you were away!