If you can find time to visit a water park in Palm Beach County, that you will have a lot of fun! After all, what's not to love about a water park? It'll be you, your partner, and the kids having nothing but fun all day long. While there are water parks located all over the country, there are some corners of the US where water parks are more common — and better — than others.
Take South Florida, for instance. If you're in this part of America, then you'll have a whole host of water parks to choose from. In this blog, we're going to take a look at the best waterparks in Palm Beach County. Take a read, pick one and enjoy your day.
Rapids Waterpark  – Riviera Beach, FL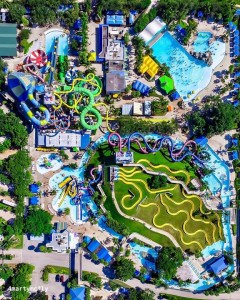 Rapids Waterpark is regarded as one of the best water parks in South Florida, in large part because it offers something for the whole family. There are rides that have been specifically designed for young kids. There are rides that the whole family can enjoy together. And then there are the thrill rides, the slightly speedier and higher rides that braver kids and adults can enjoy. The two most fun rides are Black Thunder and Big Thunder, which are both full of excitement!
Address: 6566 North Military Trail,  Riviera Beach, FL 33407
Calypso Bay Waterpark – Royal Palm Beach, Florida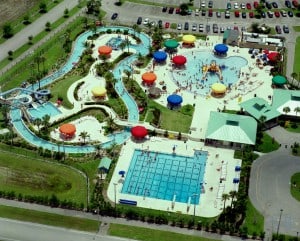 If you're looking for the perfect place to spend a warm day in South Florida, then you may want to take a look at Calypso Bay Waterpark. This is a large park that'll allow you to spend the whole day without even a hint of boredom. There's a children's water playground, a lap pool with diving boards, and then a few standout rides. There's a nearly 900-feet river ride lily pad walk, and two four-story high water slides. That's big enough to be super exciting, not so big that people are afraid. The perfect size, you might say!
Address: 151 Lamstein Lane Royal Palm Beach, FL 33411
West Palm Beach, FL – Palm Beach County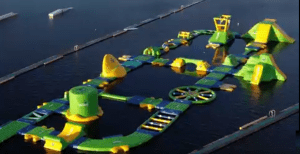 Shark Wake Park isn't your usual water park. For one, there are no tall rides here. But does that mean that it's any less fun than other water parks? Not at all. The clue is in the name. This is a wake park, which means there's plenty of artificial wave fun to be found here. There's also the largest floating obstacle course on the east coast, as well as kneeboarding experiences. If you have people in your clan who love the water but don't like heights, then this is the park for you!
Address: 1440 Eshleman Trail, West Palm Beach, FL 33413
Coconut Cove Waterpark  – Boca Raton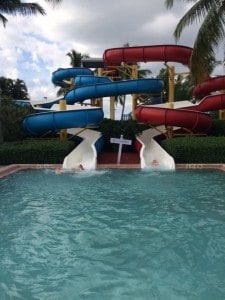 Coconut Cove Waterpark is known for being one of the best in South Florida. And once you learn what it contains, then you won't be all that surprised! There's a couple of tall water slides (they measure higher than four stories!) and a lazy river that runs for nearly 1000 feet. There's also an interactive water playground that younger kids will love! And if your kids still aren't that comfortable in the water, then you can put them into the swimming lesson classes. The park always receives rave reviews from adults and kids alike.
Address: 20130 Regional Park Drive, Boca Raton, FL 33498
Conclusion
As we've seen, you'll have plenty of options if you're looking to visit a water park with your kids during your time in South Florida! And if you're lucky enough to live in this beautiful corner of the world, then you'll be able to tick off each and every one over the years. Because if there's one thing that we know, it's that kids — and adults — never get tired of visiting water parks. All the water parks that we've listed on this page will provide an excellent day out. Indeed, by the time you're back home from your vacation, you might just realize that this was the most fun day that you had while you were away!