You may have heard the term "boo boxes" mentioned in passing in recent years – particularly around Halloween?   Or  Have you heard the term "You've Been Booed"?  What are these people talking about?  We will explain.    
What Is A Boo Box
You can think of a boo box as a Halloween equivalent of an Easter basket. Usually, it is something that you give to children but you can also give them to adults.   Boo Boxes are not a replacement for Trick or Treating but if you decide not to Trick or Treat, Boo Boxes will make Halloween more fun.  They contain a variety of delicious treats and some fun Halloween-themed items.
How Do You Use Boo Boxes?

There are at least two methods for using Boo Boxes.  People may either use the Boo Box as gift or they may use it in the "You've Been Booed" Neighborhood Game.  Descriptions of both are shown below.
Option 1 – Using Boo Boxes As A Gift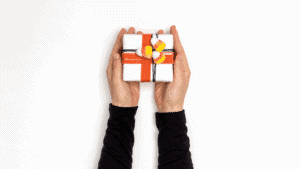 Using Boo boxes as a gift are an excellent alternative to the typical trick-or-treat setup.   They are similar to Easter Baskets.   Instead of having groups of kids go from door to door, parents can simply purchase or make boo boxes and hand them out directly to kids in their social bubble.   Or they can use them similar to Easter Baskets and give their kids a Boo Box full of fun treats and toys.   It's a great way to encourage young children to remain indoors in lieu of Trick or Treating.   
Option 2 – Using Boo Boxes in the "You've Been Booed" Neighborhood Scenario
Description
Another way to use Boo Boxes is in the "You've Been Booed" Neighborhood Game.  This game got its start after people started looking for gifts they could use to frighten each other.  People would often leave them on each other's doors with a note saying, "you've been booed."  Getting booed is a lot of fun and a novel experience for many people who haven't encountered it before. While the majority of people who celebrate Halloween are used to getting trick-or-treated (or receiving delicious treats), most don't expect to see a scary, nondescript box show up on their front doorstep with creepy messages inside.  Most people will not expect to receive a gift that may scare them and include a tasty treat.  For that reason, boo boxes have tremendous novelty value that provides load of fun. 
The process
The process for getting booed goes something like this: you hear a mysterious knock at your door and you don't see anybody around.   Then you look down at your doorstep, you notice a strange-looking package dropped off by a neighbor.   No, it is not the infamous burning poop bag joke.  Instead, it is a Boo Box that contains two notes.  The first note tells you that you've been booed.  The second note is something you can post on your door to tell your neighbors that you've been booed.  Now you have all the goodies and information you need to continue with the game.  You find a house that hasn't been booed yet and you give them a boo box from your house with two notes with the same information.   After everyone participating has been booed the game is over.   
Where Can You Obtain Boo Boxes
Making Your Own Boo Box is an option.   Purchasing online and in stores are other options.
Purchasing Boo Boxes
Although Boo Boxes are a relatively new idea, they are becoming more and more popular.   Quite a few online places sell Boo Boxes for the "You've Been Booed" game.  Some of the vendors have Boo Boxes that are already pre-made and other vendors have customization options.   Some of the customization options include adding personalize messages and images.  For your convenience, we are providing some options for purchasing Boo Boxes are below.  
Vendor – Halloween Boo Boxes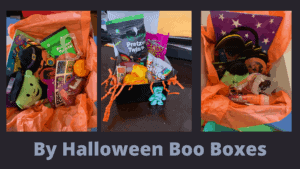 The website "Halloween Boo Boxes" provides pre-made and custom Boo Boxes.  The customization options are below:
Include Specific Name(s) on Box,
Include Specified Text on Box and or
Special Messages or Poems.
Pictures of some of their Boo Boxes from Halloween Boo Boxes are above.  Prices for their typical Boo Boxes are $5 to $25 without shipping.  For additional details, please go to their website.     They will start accepting orders On October 1st, 2020.  
Marketplace for Vendors – Etsy
Buying Boo Boxes on Etsy is another option.  It is an e-commerce site that specializes in artisan-created craft goods. It currently offers a range of homemade boo boxes for your delight.  Feel free to search their website for additional Boo Box options.  
How To Make A Boo Box

Buying a Boo Box is not for everyone.  Some people want to make their own.  To help, The Kid On The Go is providing some tips below.  
Instructions on Making the Boo Box
Grab Your Materials

. You'll need a cardboard box, large enough to hold all the treats, some scrapbook paper, bakers' twine, scissors, and any other decorations you want to include. 

Create Your Design

. If you have a Silhouette machine, you can use it to cut intricate shapes for the wrapping for your box. Cut files are available across the internet. If you don't have a cutting device, you can slap tags on your boo boxes or just cut shapes into pieces of paper using a craft knife. Using differently-colored pieces of cardboard, paper, or other materials that may be cut to create the best visual effects. 

Wrap Your Box.

The next step is to wrap your box with your cut-out decorations. Usually, you'll want to enclose the original box to hide its original identity completely. (Being able to see that it used to contain a hair dryer can kill the Halloween mood). Once you've stuck it in place, add your additional adornments and tie them on with the twine. (You can also use glue). 

Fill Your Box

. Finally, it's time to fill your box with delicious treats and goodies. As the parent, it's entirely up to you what goes inside. Ideally, you want to capture the essence of Halloween by adding something sweet and something scary.   More recommendations for what to place inside are below.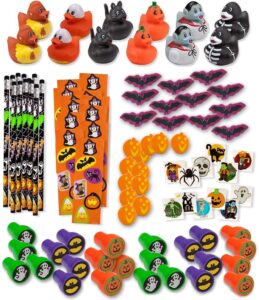 What to Include Inside the Boo Box?
Are you trying to decide what to include in the Boo Box?  Sometimes, it can be overwhelming.  Here are some tips to get you started:   
Add freshly baked cookies – either homemade or from a local bakery

Always include chocolate, the most delectable and addictive food substance in existence

Include plenty of toys if giving to young children.  Rubber ducks, stampers, pencils, sticker sheets, mini erasers and glitter tattoos are an example of some toys.  Reference the Halloween Party Favor Assortment pictured above.  

Make your message scary but original at the same time

Add some sweet candy corn 

Try to make any candy or cookies Halloween-themed

Make the basket look as though it is overflowing with goodies

Don't forget to include a note telling the recipient that they have been booed

Add cards so people can tell others that they've been booed.
Wrap-Up

As you can see, Boo Boxes can be fun, scary, tasty and exciting all at the same time.  They are also a relatively new concept.   They can be enjoyed between a family or a neighborhood.   Make your own or purchase them.  So many decision.  So little time.  At the end of the day, the most important thing is that everyone has fun.  Your kid may not make the best Boo Box.  That doesn't matter.  The most important thing is creating memories because they are priceless. Enjoy your Halloween. If you are using Boo Boxes as an alternative to Trick or Treating.  The Kid On The Go has nine other alternatives for Trick or Treating on the 10 Alternatives to Trick or Treating
Similar Topics
[post-carousel-pro id="7946″]