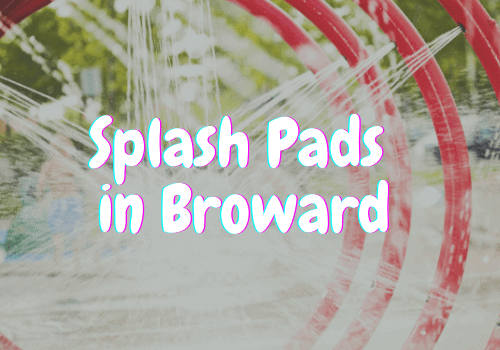 The sun is always shining in South Florida, and as the summer is coming, you might be looking for places to cool down and keep your kids entertained at the same time! There's plenty of beaches and waterparks for the family, but when you have little kids, splashpads provide that right level of fun that comes with being out in the water, but without all the worry that comes with being in a pool, so you can take it easy!
Have you wondered, "Where is a splashpad near me?"   If so, here are 12 of our favorite splashpad parks in Broward County.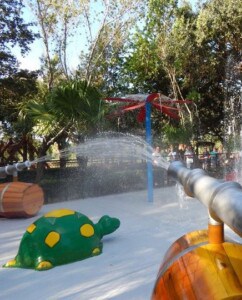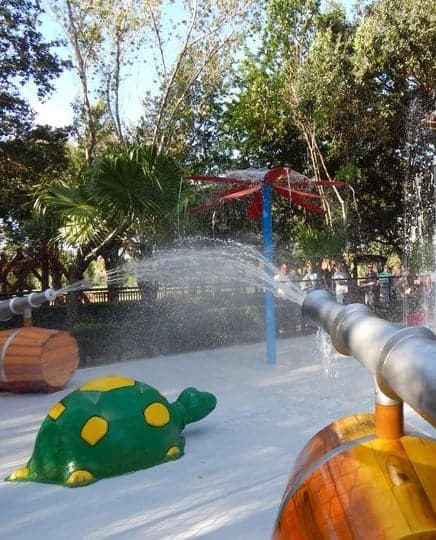 There are some amazing play structures in this park, but the water playground is the biggest draw for those looking to cool down on long hot summer days. With plenty of spray features for the kids to mess around with, and a small boat for climbing, this is a great place for the younger members of your family. It's clearly a very popular park for families, and with the added extra offering of two playgrounds for different age groups and a lot of shade, you can easily get the kids out of the blazing heat.
More Park Features:   Barbecue grills, Horse Corral, Pavilion and Playground.
Address:  Liberty Park, 9200 Ranch Rd, Parkland, FL 33067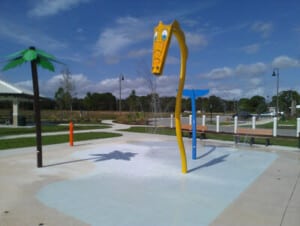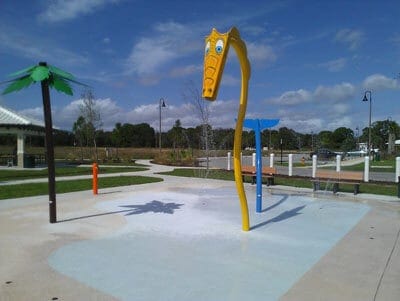 This Broward County Park is fantastic for the entire family. With the shallow waters and fun cattails, your kids have every opportunity to cool off in the summer sun. If you are looking for activities during the weekdays and you need to save your pennies, it is currently free during the week and there is a small fee on the weekends.
More Park Features:  Gazebo,  Nature Trail,  Picnic Area,  Playground and Shelter & Room Ren
Address:  Miramar Pineland, 3600 S. University Dr., Miramar, Florida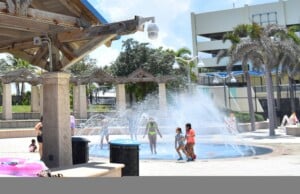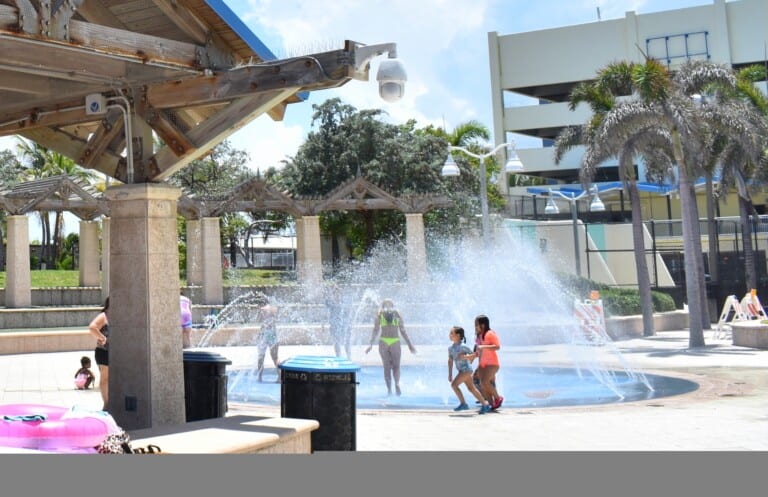 If you need to get your kids to cool off without them heading into the ocean, this park on the Hollywood Beach Boardwalk is perfect. The kids can enjoy splashing around in the water safely, and parents can stay secluded in the shaded pavilions. The extra feature of playground equipment at Charnow Park means a family-friendly day for everyone- a perfect place to stop off on the way back from the beach!
More Park Features:  Paddleball Courts, shaded seating area, picnic pavilions and playgrounds.
Address:   Charnow Park,  1500 N Broadwalk,  Hollywood, FL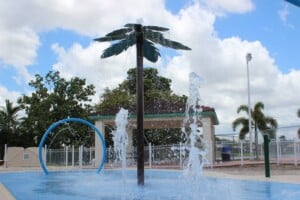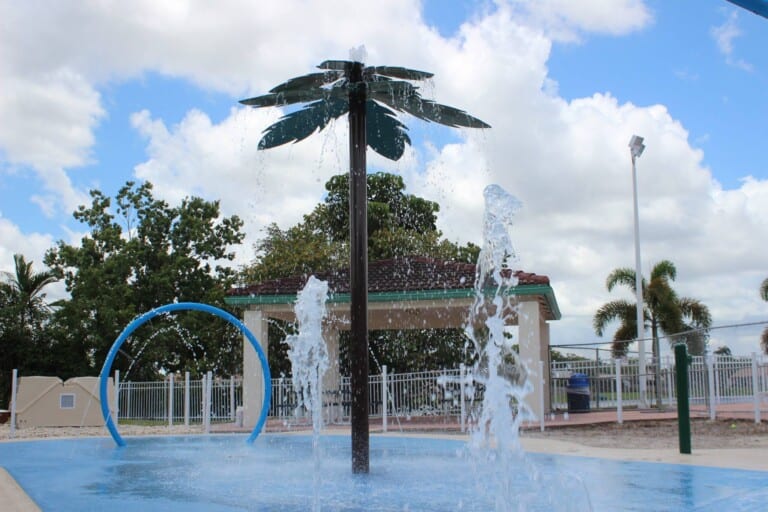 A great little park and pool for the entire family- the circle ring, whale's tail, and palm tree are all fun for the kids, and the park is a key part of Cooper City's dedication to recreation! They hold a lot of events depending on the time of the year, but if you just want your kids to go and play about, as long as they are under 10, they will have a whale of a time (and not just on the whale's tail)!
More Park Features:  Tot Lot, Pool, Tennis Courts
Address:  Cooper City Pool and Tennis Center,  11600 Stonebridge Pkwy,  Cooper City, FL 33026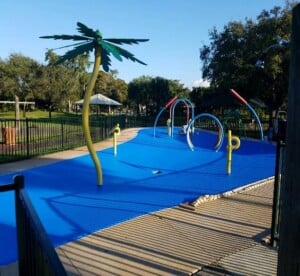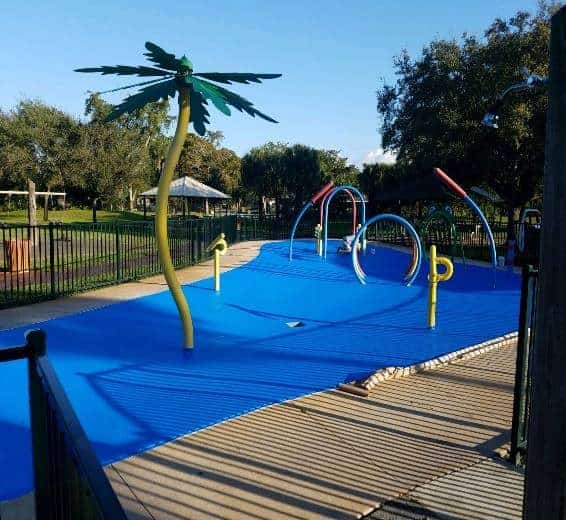 The forest theme of Plantation Woods is perfect for the whole family- the treetop climbing structures, grizzly bears, and purpose-built tree swings evoke that feeling. Right in the middle of the playground is an amazing splashpad for cooling off, with loop misters, spraying cattails, and everything you need to keep the kids entertained while you relax.
More Park Features:  Benches, Rest Areas, Open Play Area, Pavilions and  Playground.
Address:  Plantation Woods, 5555 Palm Tree Rd, Plantation, FL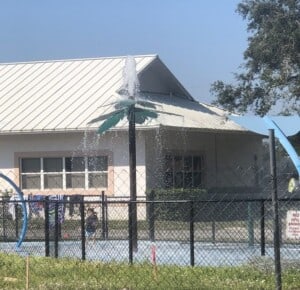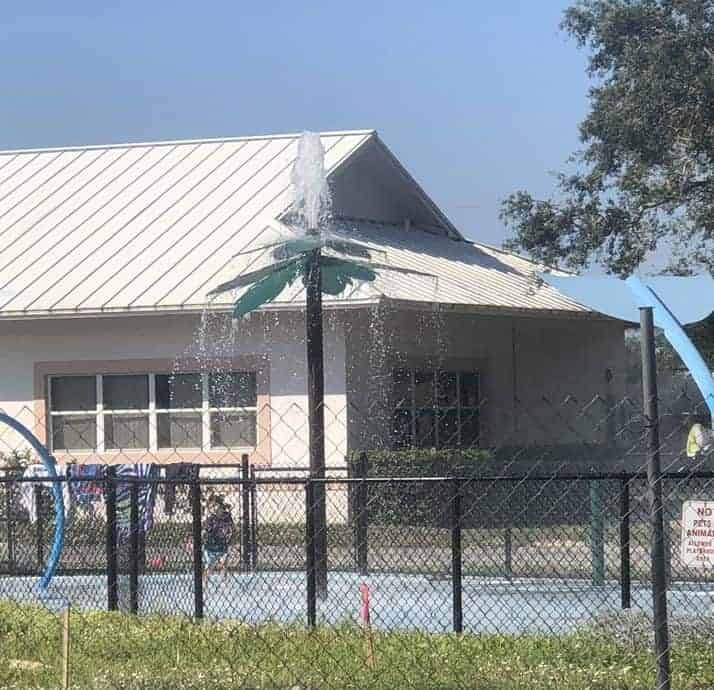 Considered a hidden gem of the splashpads in Broward County. This one is part of a massive park, so you kids can do anything. As part of the two large playgrounds, the water pad is the perfect location for you to sit back and enjoy a picnic or make the most of the barbecue facilities while your kids cool down, mess around, and have fun in this splashpad.
More Park Features:  Tennis Court, Roller Hockey Rink, Baseball Fields, Football Fields, Basketball Court and Activity Building.
Address:  Shenandoah Park, 14601 SW 14th St,  Davie, FL 33325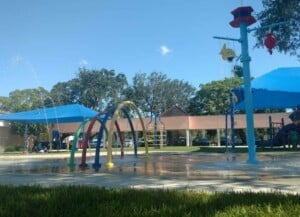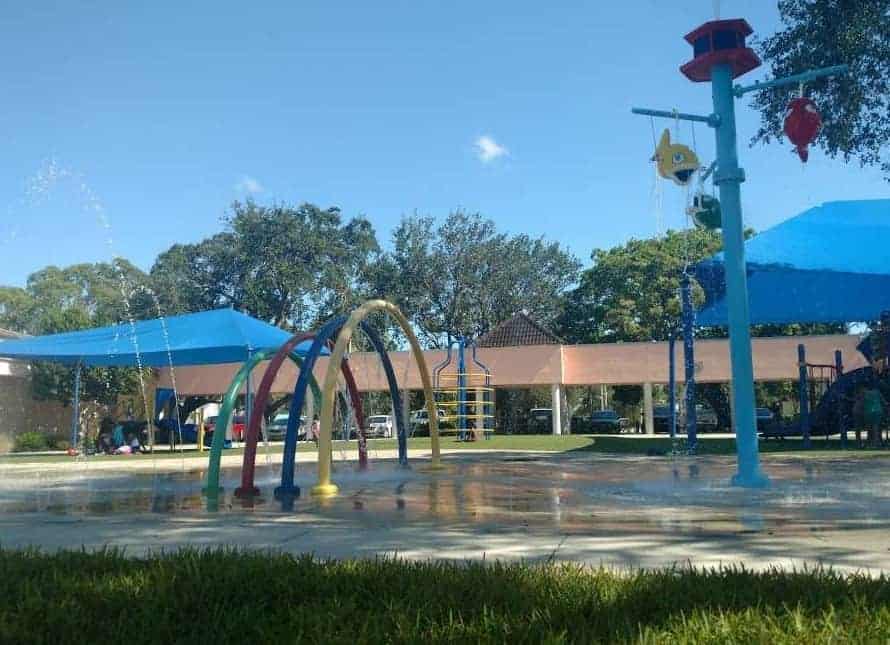 Great for the kids that have a lot of energy. The water appears to squirt from every single direction, and with water cannons and animals to climb on, it is the perfect place for kids to run themselves ragged. Just to let you know, any kids under the age of 8 need to be accompanied by an adult. There are a lot of structures on and around this splashpad, but that's not to say the little ones can't have fun too!
More Park Features:  Basketball Courts, Driving Range, Golf Course (3-Hole), Lighted Athletic Fields, Pavilions, Picnic Area, Playground, Putting Green, Racquetball Courts, Recreation Center, Restrooms, Shuffleboard, Splash Pad, Tennis Courts, Volleyball, and Walking/Jogging Trail.
Address:  Osswald Park, 2220 NW 21st Avenue, Fort Lauderdale, FL 33311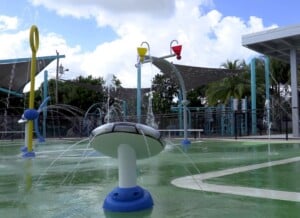 While the park has a lot of things to do for the family,  the splashpad offers a chance to cool down and get soaked in the wonderful summer sun!
More Park Features:  9-hole Disc Golf Course, Fitness Stations, Picnic Pavilions, Walking/Biking Path
Address:  Cypress Preserve Park, 9020 NW 38 Street, Sunrise, FL, 33351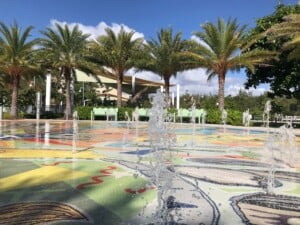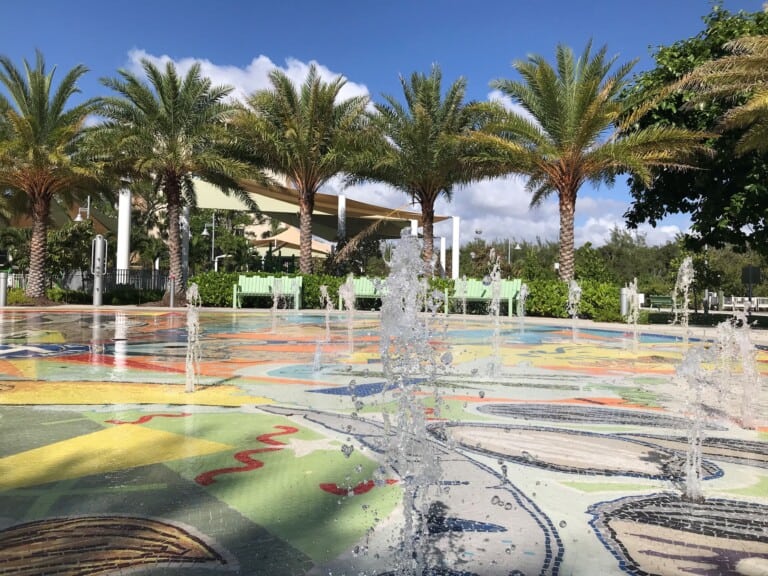 Sullivan Park's splashpad is open from dawn until dusk, and is a great way for everyone to cool down, including grownups!  The water shoots up from the ground in this colorful and vibrant-looking splashpad.  If you want to run around with the kids, or just cool down quickly, you've got it!
More Park Features:  Playgrounds, picnic pavilion, public marina, and a pedestrian promenade along the Intracoastal Waterway.
Address:  Sullivan Park, Riverview Rd, Deerfield Beach, FL, 33441
10.  Arts Park – Hollywood, Florida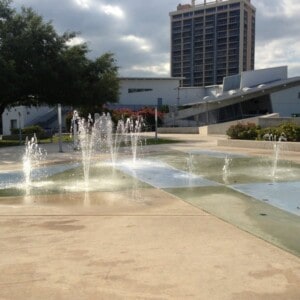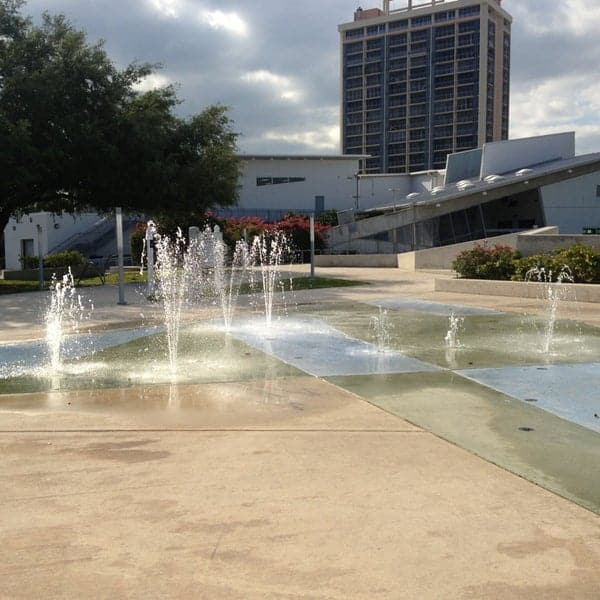 In the summer, the splash pad is one of the busiest places at ArtsPark.   Kids can play between the splash pad and the playground.
More Park Features:   Amphitheater and playground.
Address:  ArtsPark at Young Circle, One Young Circle, (US-1 & Hollywood Boulevard), Hollywood, FL 33020
11.    Mickel Park at Wilton Manors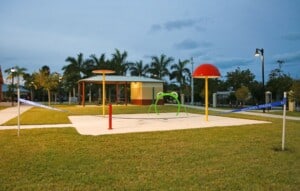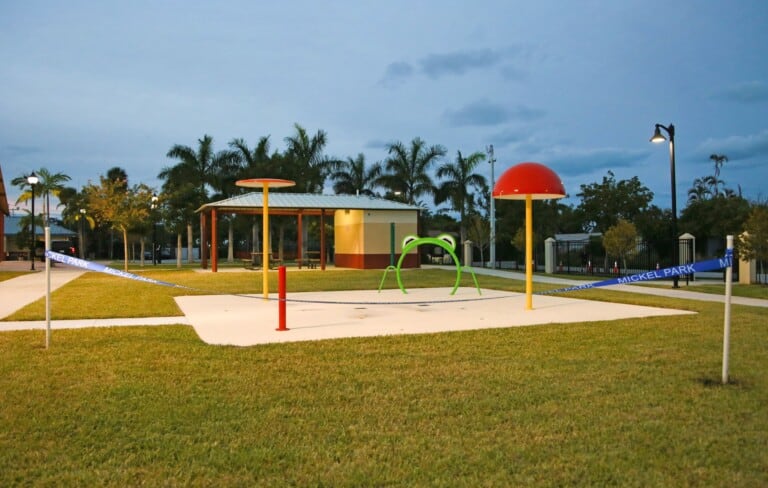 This splash pad is a relatively new addition and popular addition to the park.  Kids can cool down in this colorful play space.
More Park Features:  Walking trail, baseball field, Fitness station, jungle gym and a few pavilions.
Address:  Mikel Park, 2675 NW 7th Ave, Wilton Manors, FL 33311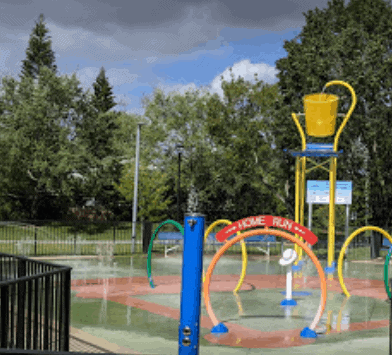 Not only does this park have baseball fields, the splash pad has a baseball themed splash pad.   The kids are sure to have fun as they cool off in this splash pad.
More Park Features:  Baseball, basketball, playground, soccer, softball, teeball, tennis, walking path and wellness stations.
Address:  Flamingo Park, 12855 NW 8th Street, Sunrise, FL 33326
Conclusion
As you can see, there are plenty of great splashpads in Broward County- if you are looking to cool the kids down, the right splashpad in Broward County, South Florida will bring you and the kids' temperature right down!
If I missed a splash park or if you would like to provide feedback on one splash pads in Broward, please let me know in the comments section.