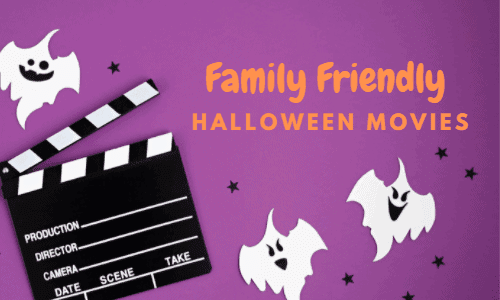 Halloween is a very special day of the year that includes everything that appeals to kids when it comes to decorations, celebrations, and dressing up. One aspect of Halloween that you can also enjoy with your family also includes movies that add spooky thrills that are meant to be kid-friendly.   Here are some of the best family Halloween movies that will bring back great memories for you and give your kids new traditions they will love and cherish.
1.  Coco (2017)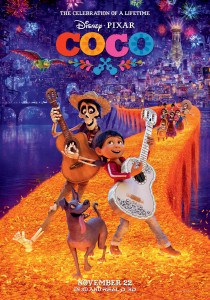 Why it's good
Every family has a certain amount of family secrets that aren't mentioned to the younger generations. Coco is a great story that lets kids know that not everything that we learn about is the whole story. Miguel ultimately learns his family secret and helps reunite his living family member Coco even beyond the spirit world. The result helps breaks a long-standing ban on music in their family after that.
What makes it kid-friendly:
It's great for kids (4 and up) and is whimsical for the number of spirits and dead people that are seen all through this film. There's no jump scares and it has great music segments that make it an updated Disney Halloween Movie your kids will love. If you can't find it on Netflix or Disney+ or you'll find it here just as easily on Amazon.
Where to Find It:   Amazon
What's It's About
When it comes to celebrating Halloween, you can't discount the Spanish version of Day of the Dead (Dia de Los Muertos). This story is about a little boy named Miguel who's determined to become a musician, even though his family is against any kind of involvement with music. Miguel is determined to chase his dream, decided to borrow a guitar from his favorite deceased idol who had his guitar enshrined in his crypt.
Unfortunately, Miguel does this on Dia de Los Muertos which transports Miguel into the Land of the Dead and traps him there until he can find a way to return to the living. His journey takes him all over this parallel spirit world to seek out Ernesto De la Cruz (his musical idol) that he also thinks is his great-great-grandfather. Through many twists and turns, this spooky theme never gets old and has plenty of ghoulishly funny characters all throughout.
2.  Curious George: A Halloween Boo Fest (2013)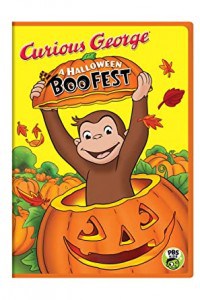 Why it's good:
This cleverly animated movie gives parents the perfect reason to relive Curious George stories once again. It also has plenty of Halloween themes that are inspiring and festive. George learns about raking the autumn leaves, but Allie is more tired of doing the raking more than George jumping in the piles. He also learns about Halloween festivals and games and all the tricks and treats that Halloween represents.
What makes it kid-friendly:
You'll be glad to know this is perfect for kids that are 2 years and older for family friendly Halloween movies. The vivid colors and songs are catchy making it more fun for kids to sit and watch. George is appealing to young kids and will certainly entertain their curiosity about this holiday. There aren't any big scares and rarely goes beyond the Boo factor. It's simply good clean fun. You can watch it through Amazon Prime and Google Play
What's it about:
It doesn't take a monkey to tell a good Halloween story but when it comes to Curious George learning about Halloween fun, this movie nails it. The story begins with George and Allie getting ready for Halloween with a trip to Renkin's Farm. This is where George can pick out the perfect pumpkin. While they're at the farm they learn about the Legend of No Noggin. This spooky tale reveals how Noggin appears on Halloween to kick off people's hats.
Not only does this sound too good to be true, George and Allie decide to get proof that Noggin exists by taking his picture as proof. The rest of the story takes this duo all over town on Halloween with plenty of musical interludes. All the while, George cannot decide on the right costume so he can win the Boo Festival contest. Allie is also determined to help George win so he can use a high-tech leaf vacuum offered as first prize.
It's soon revealed that George finds an old photo of No Noggin and an old map showing where Noggin is kicking hats. By coincidence, it's at a tree by the front yard of where George lives. Now George is more than curious to finally catch No Noggin with a photo for himself which pokes a bit of fun to not scary Halloween movies with creepy characters.
3.  Hotel Transylvania (2012)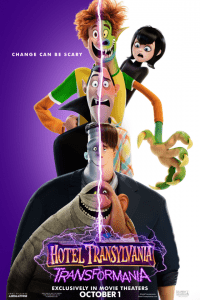 Why it's good:
This is a fun romp with lots of monsters that are from all over the world who come to Dracula's Hotel Resort to get away and relax. It's also a good story to watch that helps kids understand that parents can be protective when it comes to letting go. The best part is that this shows that monsters and people can coexist in the same world since times have changed, but for Dracula, he somehow forgot since he's been so busy running his hotel.
What makes it kid-friendly:
The monsters are humorous versions of themselves that aren't scary for little kids age 3 or younger. It also shows how monsters might be different but all are nearly like regular humans after all. This can help teach little kids that major differences such as how they look are accepted no matter how slimy or strange they tend to look. You'll find Hotel Transylvania Streaming at Hulu and Netflix as one of the best family Halloween movies around.
What it's about:
It's the case of boy meets girl, but set in a castle that caters to monsters from all over the world. Hotel Transylvania is a fresh restart of the old Dracula stories with the count opening his castle up to his fellow monsters as a resort hotel. Dracula also has a 117-year-old daughter who is going through what most young adults want most- freedom. Not until a young globe-trotter named Jonathan stumbles onto the castle do the antics begin.
Dracula tries to get Jonathan to leave before the big birthday bash for his daughter Mavis who's turning 118. In a futile attempt to hide Jonathan from the others he disguises him as Frankenstein's cousin but when they cross Mavis, they 'Zing' and instantly fall in love. The rest of the film is loads of conflict trying to hide Jonathan and keep him from his daughter but ultimately ends with Dracula accepting what is happening in a happy monstrous B-Day party.
4.  Spookley: The Square Pumpkin (2004)
Why it's good:
This helps teach young kids about tolerance and how obvious differences in how someone or something looks can be teased so easily. it also helps little kids to not learn to become judgmental when it comes down to appearance. The other part that is a lot of fun is seeing how pumpkins are readying themselves for a change of the season through competitions. Little kids get to learn about the importance of pumpkins in the fall.
What makes it kid-friendly:
Preschoolers, in general, will love this because it has a very simple message with easy-to-follow idealisms. Not everyone is the same and little kids will like how being different is often a plus. The animation is also highly enjoyable and has moments that lighten the mood when Spookly is teased for being different. You'll find that Netflix carries this on their line-up but we've also added Amazon Prime just n case.
What it's about:
On the night right before Halloween on a farm that grows pumpkins, there is only one among the entire patch that is different than all the others. Spookly is a pumpkin that is square-shaped and is continually teased by all the others who are nice and round. Aside from the constant teasing, Spookley has a friend at the farm that includes a couple of bats, some very comical spiders, and even a scarecrow. They all assure him that he's perfectly fine as he is.
Spookley feels that he could be chosen as the best when it comes to a big competition but later loses to another pumpkin that also bullies him.
When a freak storm threatens the farm that night, it causes many of the pumpkins in the patch to roll away with the wind. Luckily Spookly uses his shape to work in his favor since he doesn't roll and saves the rest of the pumpkins from rolling into the ocean. After that, Spookley is cheered by the rest from the pumpkin patch as a hero.
5.  Hocus Pocus (1993)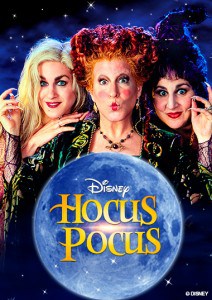 Why it's good:
It's a great moral story that turns into a race-to-the-finish theme about good and evil. As crafty as the witches might be, they're not smart enough to fool these young kids who are living in a world 300 years after they've been gone. And though the witches have special powers, they get foiled in the end which is always a traditional happy ending.
What makes it kid-friendly:
The witches aren't very scary and often are simply shown to be out-of-touch and lack of a better word- dumb as donuts. There's a talking cat that is spooky but not scary for kids, and even Billy is likable despite being dead for so long. Its good clean fun that is early 90s wackiness and full of Halloween themes which everyone can feel is timeless. Disney+ will exclusively host Hocus Pocus 2 in 2022 but you can see the original film with Disney+
Where To Find It:   Disneyplus,  Amazon
What's it about:
From the creative mind of David Kirschner, Hocus Pocus was originally a bedtime story he used to tell to his daughter. In this film adaption, a young boy named Max who had recently moved to Salem from California is struggling to fit in. He accidentally triggers a curse trying to impress a girl that lives next door to him on Halloween night. This releases three witches who were punished for their witchcraft in 1693.
All through the night, the witches pursue Max and his new friends all over town and try to foil their attempt to break their curse and continue living. Despite being released in 1993, it still holds up pretty well considering it's now a Halloween classic among its original fans. It even has Doug Jones playing Billy Butcherson who went on to play many characters in Guillermo del Toro's films.
6.  The Halloween Tree (1993)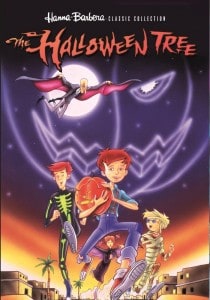 Why it's good:
Not only is this a great story to show kids how Halloween is celebrated, but the traditions that follow will also be educational. The soundtrack is top-notch and was composed by John Debney who composed the Phantom Manor music at Disneyland-Paris. Despite this being cell animation, it holds up to today's computer-animated kid's movies. It also has a very strong moral story that many kids will relate to easily enough.
What makes it kid-friendly:
It's thrilling and creepy but won't be scary for very young kids. The music is epic but inviting and sounds bigger than the movie itself at times making it work on a whole new level. The tone and images are ghastly but never beyond a child's imagination. It'll be great for kids that are 3 and older. It's a rare film that you can watch on Amazon and Google Play.
Where To Find It:  Amazon
What it's about:
Based on the book by Ray Bradbury, this animated classic is also from David Kirschner and follows the Halloween tale of a group of small-town boys on Halloween night. They plan to make this Halloween their biggest night ever including a visit to the scariest house in town. But when the leader of their troupe is sick that day, he convinces them to go ahead where he'll meet up with them later.
As if things didn't go to plan, their prank at the scary house is a trick on all of them when the owner -Mr. Moundshroud shows-up. After that, they spend the rest of the night traveling through time trapped in a Halloween lesson they'll never forget. In each land, they visit they learn about themselves and about the true spirit of Halloween and a sacrifice they'll all make for their sick friend who needs their help.
7.  Pumpkin Man (1998)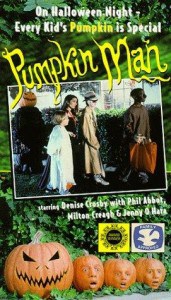 Why it's good:
The message is different because it deals with divorce and how separated parents aren't really the end of a family. It's also about how Halloween is a holiday that becomes a favorite for kids because of their parents going along with them in costume door to door. Almost like the passing of the torch, young kids learn to join their friends when they get old enough but are still kids at heart.
What makes it kid-friendly:
It's a heartwarming story that is surprisingly short, leaving you wanting to see more in the end. Kids won't be scared even when Pumpkin Man shows up and is obviously not threatening to anyone. It's better for kids that are 4 and older, but probably not captivating enough for toddlers. For many on the list that is considered not scary Halloween movies you'll find these days, it's worth checking out.
Where to Find It:   Amazon
What it's about:
An extremely rare find that only premiered on FOX TV in October of 1998, but is one of the few Halloween kid's movies that's different. It's about a young boy who is celebrating Halloween for the first time without his Dad being around. Since his parents divorced, Jason is having trouble being able to enjoy his favorite holiday. In the tradition of Charlie Brown choosing his pumpkin, it seems this year, a very special pumpkin chooses Jason instead.
Yet somehow Jason can't decide on what kind of face to put on his pumpkin and is interrupted by his closest friends. They convince Jason to go trick or treating' to take his mind of things where they meet up with a mysterious pumpkin-headed character. The rest of the evening is followed by mysterious happenings and a trip to the local spooky house that forces Jason to finally face his biggest fears.
8.  E.T. The Extra-Terrestrial (1982)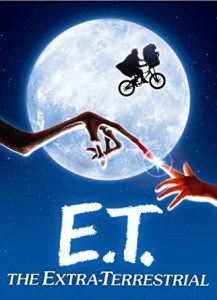 Why it's good:
As a mom or dad, E.T. is a real tear-jerker if you grew up with this Halloween favorite. It's part of understanding that even aliens will be as curious as children wanting to learn about humans but somehow sharing an invisible bond that all kids seem to have with each other. There is no hatred or judgment when E.T. is around and they help to protect him in any way they can. All kids will have a universal love for E.T. right away along with a great story.
What makes it kid-friendly:
This little alien is about as friendly-looking as you can imagine and small children will be curious to watch this film. It's funny to see the antics that E.T. gets involved with as opposed to films like Gremlins that are destructive and dangerous. E.T. is perfectly suited for young kids around 3 or 4 years but still appeals to older kids at 9 or 10. You can find E.T. on Amazon Prime since Netflix doesn't show it so often.
Where To Find It:  Amazon
What it's about:
What happens when you mix Halloween, kids, and a lonely alien from outer space? As if this wasn't enough to put Reese's Pieces on the map for being a great Halloween treat, E.T. is the story of an alien who gets stranded on Earth and is taken in by a little boy named Eliot. In the short time that E.T. is on earth, he shares a special friendship with Eliot and the rest of his siblings until E.T. can find a way to get home.
It doesn't take too long before the government finds out where E.T. is hiding, but not before Eliot and his older brother and younger sister can bring E.T. out for Halloween. The rest is a wild ride until the government steps in and locks everything down. Luckily with Eliot's help with his siblings and family, he helps E.T. to escape to the Mothership's meeting point. The ending is just as touching since E.T. can finally get home safely.
9.  Frankenweenie (2012)
Why it's good:
The loss of a family pet, especially for a little kid is often hard to understand. This story opens up the ability for a little boy to try to change that reality with a science experiment that will bring back his favorite dog. It also shows how a good idea isn't always the best when it comes to changing the natural order of things. Little Victor, in this case, helps to prevent chaos from destroying everything in their town.
What makes it kid-friendly:
It's a cute film that isn't frightening for kids but does have the same meaning for every kid who will watch this Halloween-themed story. The happy ending is when Sparky and Elsa find each other giving some closure to two pets that were obviously made for each other. While it's light-hearted, this film would be better for older kids 5 or 6 years of age. You'll find this streaming on Disney+
What it's about:
When it comes to Tim Burton, you have to admit he has a sense of moral to issues such as losing a pet. As for little Victor Frankenstein, he's not ready to let his dog Sparky go so easily when tragedy happens. He learns how electricity might be able to change things for the better, he uses his skills to bring back Sparky to life, but not in the way that he wanted his dog to return naturally.
It becomes harder and harder for Victor to hide Sparky which leads to one of Victor's friends getting too suspicious. After showing how he brought back Sparky, many other kids n his school start to do their own experiments with each one being more disastrous than the last. Victor and his classmates then need to battle with each of these monstrosities. In the end, Sparky nearly dies again but is saved and finds comfort with a partner dog just like him.
10.  Pooh's Heffalump Halloween Movie (2005)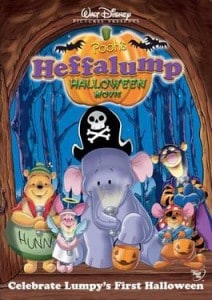 Why it's good:
Winnie the Pooh is a classic Disney series that always appeals to parents and kids will enjoy the whimsical tone. After all, these characters are a mixture of animals that are stuffed animals owned by Christopher Robbins. It shares a whole new adventure that's light-hearted and has spooky Halloween themes running all the way through. Even for characters in the Winnie the Pooh universe, there are always holidays to celebrate too.
What makes it kid-friendly:
On a Disney level, the scare factor will hardly reach Boo-tastic and proves that Halloween is creepy enough with the little kids in mind. This is a great film for 3-year-olds up to preschoolers, but parents will love the best family Halloween movies that are from Disney. It's wholesome with a great Halloween theme and some candy corny jokes in between. You'll find it streaming on Disney+ and also with Amazon Prime.
What's it about:
Winnie the Pooh and his friends at the Hundred Acre Wood are getting ready to celebrate Halloween. Now joined by Lumpy the Heffalump, this is his first Halloween with the group, and Pooh, Piglet, Roo, Rabbit, and Tigger are all getting ready and talking about their plans for trick or treating. Tigger takes the time to bring up a spooky tale of the Gobloon that haunts the forest every Halloween.
If the Gobloon catches anyone, it'll turn them into a jaggedy Jack- o'- Lantern! Tigger also mentions that anyone who catches this Halloween trickster, they'll be granted one wish. Of course, Rabbit discredits the story and thinks it's only made up. But after Pooh eats all of the Rabbits 'trick or treat' candy, it gives Pooh a great idea. He and Heffalump will catch the Gobloon first to wish for more candy…
This sets the evening up for a search through the woods using Tigger's map where the Gobloon is supposed to live. The group sets off to a Creepy Cave which where they'll find a Slimy Slide into a Tree of Terror. This is where they'll set their trap for the Gobloon. There are plenty more stories and tales in between that lighten the spookiness, but in the end, all of the group get a big trick with an unexpected surprise.
11.  A Nightmare before Christmas (1993)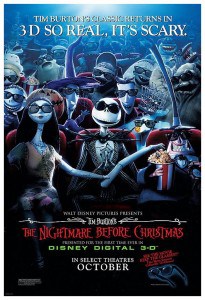 Why it's good:
Jacks is a real protagonist who has good intentions in a land that isn't all about sugar and spice. It's a classic Halloween tale that teaches young kids the value of holidays and right and wrong. And even though Jack is hard-headed like the skeleton man he is, he finds that the affection from Sally is enough to help him see where he went wrong. It's certainly a spooky love story that defines any Tim Burton film.
What makes it kid-friendly:
The characters are warped and creepy but never scary for little kids. The stop-motion animation also has a mesmerizing effect that is very otherworldly but never enough to be horrific. Kids will love the catchy tunes that we all grew up on, and they'll like to see good beating evil in a comical style. It's perfect for kids that are 2 and older. It's usually found on Disney+ and Netflix around the Halloween season if you don't have the DVD already.
Where To Find It:  Amazon
What it's about:
Jack Skellington is the King of Halloween town and has made Halloween a frightful success over the years, but out of boredom, he longs for something new. After finding a secret forest full of trees leading to different holidays, he stumbles into the land of Christmas town at the North Pole. He decides that he wants to make Christmas his own after that, with a plan that is doomed for failure.
After Christmas is nearly ruined, it's up to Jack to make things right after Oogie Boogie puts Santa Claus into mortal danger. In a twist ending, Santa teaches Jack a few things he doesn't know about Christmas and helps restore things to normal. In the end, Jack has a new lease on life and sticks to Halloween with a few new tricks up his sleeve.
Wrap-Up
So gather up your family, grab some popcorn and enjoy one of these classic Halloween movies that the entire family will enjoy.
Does your family also enjoy these fun, not scary Halloween movies?   Is there a different movie your family watches around Halloween?  If so, please share the movie in the comment section.
Related Topics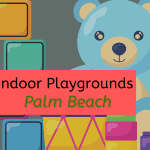 To find indoor playgrounds in Palm Beach
READ MORE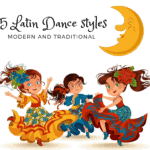 A discussion of 15 Latin Dance Styles
READ MORE
Life in South Florida can be hectic. 
READ MORE
Affiliates
Disclosure: I only recommend products I would use myself and all opinions expressed here are our own. This post may contain affiliate links that at no additional cost to you, I may earn a small commission. Thanks.